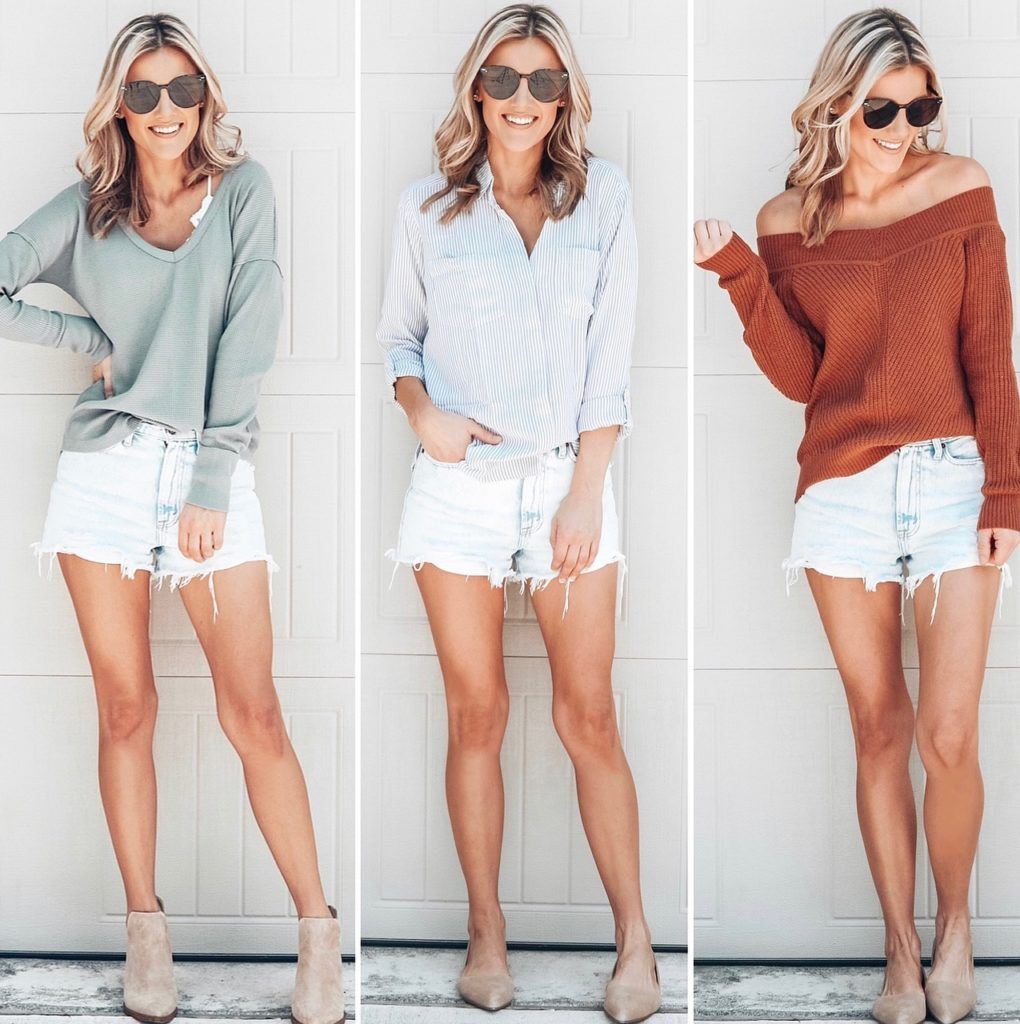 ---
To be 100% transparent with you, I actually used to work at Abercrombie & Fitch back in the day.

Okay… "back in the day" isn't actually as ancient as it sounds since it was really only about eight years ago and I was around 24 years old, but still, it's true. I used to call the place that saturated the air and their clothes with men's cologne my work. It was brilliant of them because in doing so, thirteen year old girls would come in giggling and stare at the half naked men on posters hanging around the store to shop while their parent's roamed the mall but would eventually come back to purchase all the girls' had picked out. I mean, I was getting headaches on the regular and felt like I was at a disco party daily, but it's fine, I'm fine. 🙂

We were living in Washington D.C. and it gave me something to do during the day because I didn't have a "career". We married when I was 20 years old and moved to Japan right away so there was no time to finish college, which was fine with me because I struggled at it anyways. Working a 9-5 job wasn't appealing because when Trey was off or not holding alerts at work, which required him to stay for days at a time, I wanted to be available. So it was the retail life for me and I enjoyed it, minus the headaches and loud music.
They have come a long way since then though, I mean, there are still the posters, young girls and music playing, but it isn't as loud and they seemed to have toned down the cologne spraying. What I really mean, is the sizing is better and fits normal people now, not just the said thirteen year old babies it was aiming to draw in. They have a ton of cute tops, sweatshirts and jeans, however I do normally size up in the tops for a looser fit.
It's still considered a junior's sizing so I recommend always going up for length if you are concerned.

I've rounded up some cute New Arrivals for you plus a few of my favorites and 4 tops I just purchased for myself.
---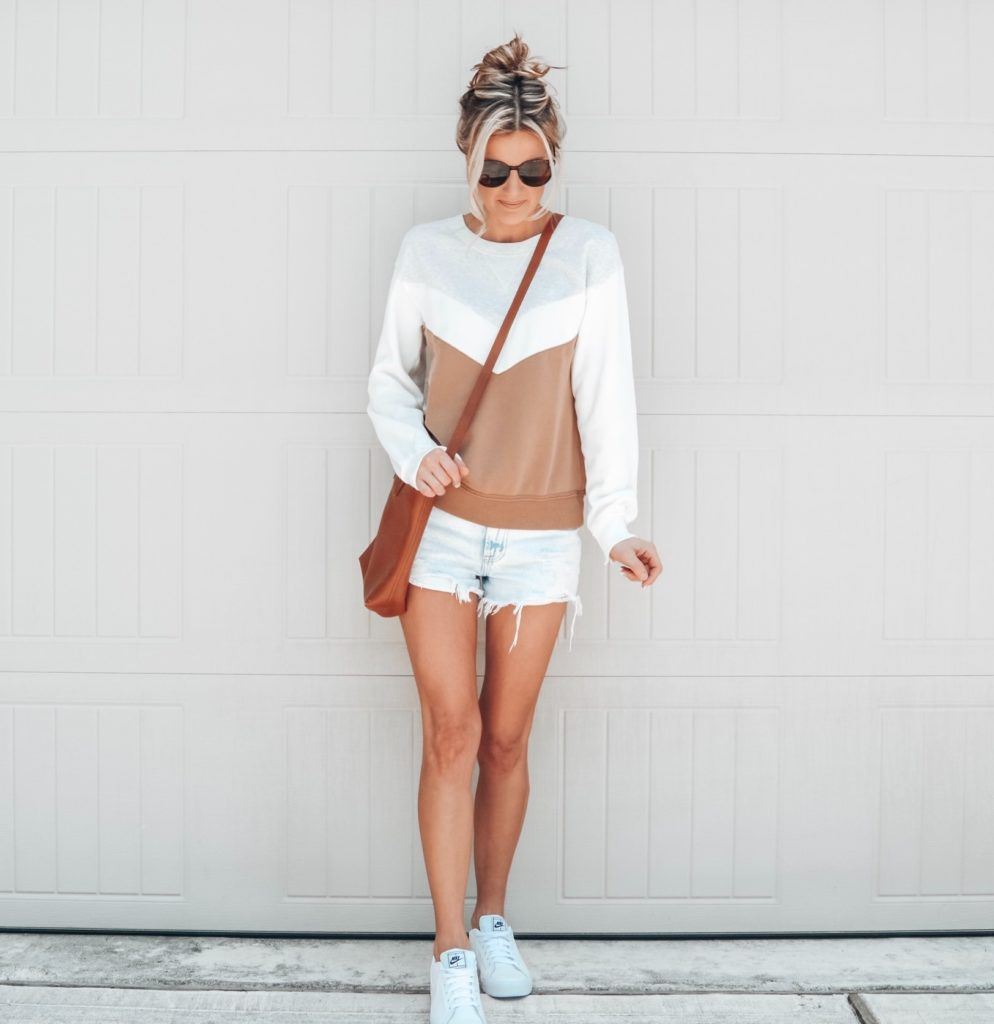 SWEATSHIRT // SHORTS // SNEAKERS // CROSSBODY BAG

Outfit Details :
** size up in the sweatshirt for length
** shoes are true to size
** shorts are clearanced! less than a 3 inch inseam and high rise
---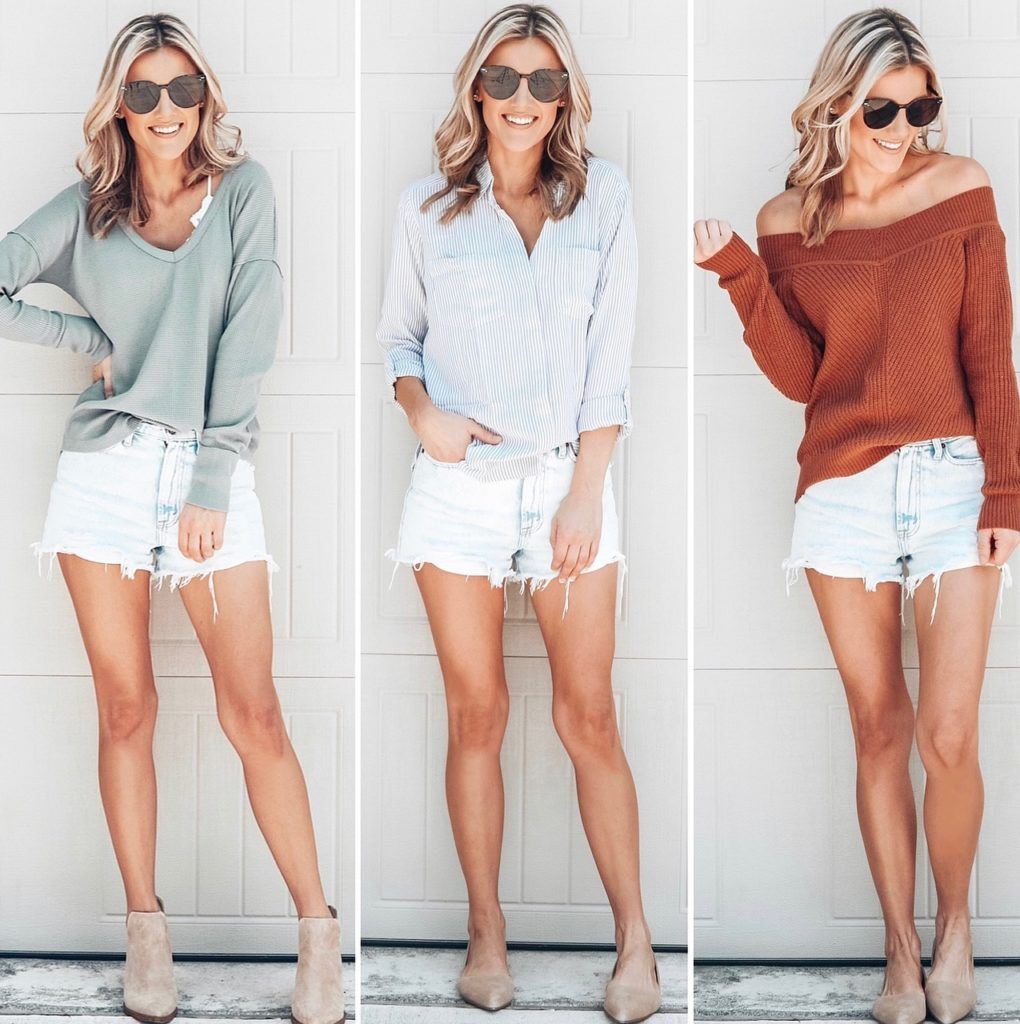 All three outfits above can be shopped / found HERE.
---
Outfit details from left to right :

** Shorts are the same for all three looks. I'm wearing a 25 but could also do a 26 for more room. Go up one if you are in between sizes.
---
Green Waffle Top : I'm wearing a medium so size up one for a looser fit. It comes in four other colors and has good weight to it. I love the length on this v neck top so I can wear it with skinny jeans or shorts. If you size up and aren't very busty, it will probably be too low cut for a regular style bra. I wouldn't feel comfortable wearing a regular bra with this top so I added a bralette ( I planned to wear it that way, not that I'm unhappy with it. )



---
Striped Button up : Lightweight, comfortable and has great length. True to size, I'm wearing a small. Go up if in between sizes. You can pair this with white, blue and black denim, do a front tuck or unbutton the two bottom buttons and knot it in the front.



---
Chenille off the shoulder sweater : This sweater is so incredibly soft and cozy. I'm wearing a small so I'd say it's true to size. The quality is great and I'm impressed at how easily it stays on my shoulders without being too tight. When I saw it online my first thought was to pair it with medium to dark blue skinny jeans and tall boots for family pictures.



---
My top picks

---
This post is not sponsored by Abercrombie or any other brand / retailer. As always, all opinions are my own.