---
Happy Thursday!! The week is almost over and I couldn't be happier. I thought living for the weekend was only for when I was in my 20's but I've never looked forward to the weekend more than at almost 32, with two kids and working full time. AMIRIGHT???
Anyways, Black Friday is just around the corner and that means you, along with myself and a million others, are going to be doing a lot of shopping. I like to check as many people off my list as I can during those few glorious days of endless sales and Trey is one of the first to get the check mark beside his name.
In today's blog post I've created a list of items that I think will help you decide what to purchase for the men in your life this Christmas. A lot of these are tested and approved by Trey so if you gift him something from this list and your guy doesn't like it, blame him. JUST KIDDING!!! Good Luck and I hope you enjoy this list.
---
To shop the items pictured below, click on the product title from the list I have provided and it will take you directly to the product website page.
---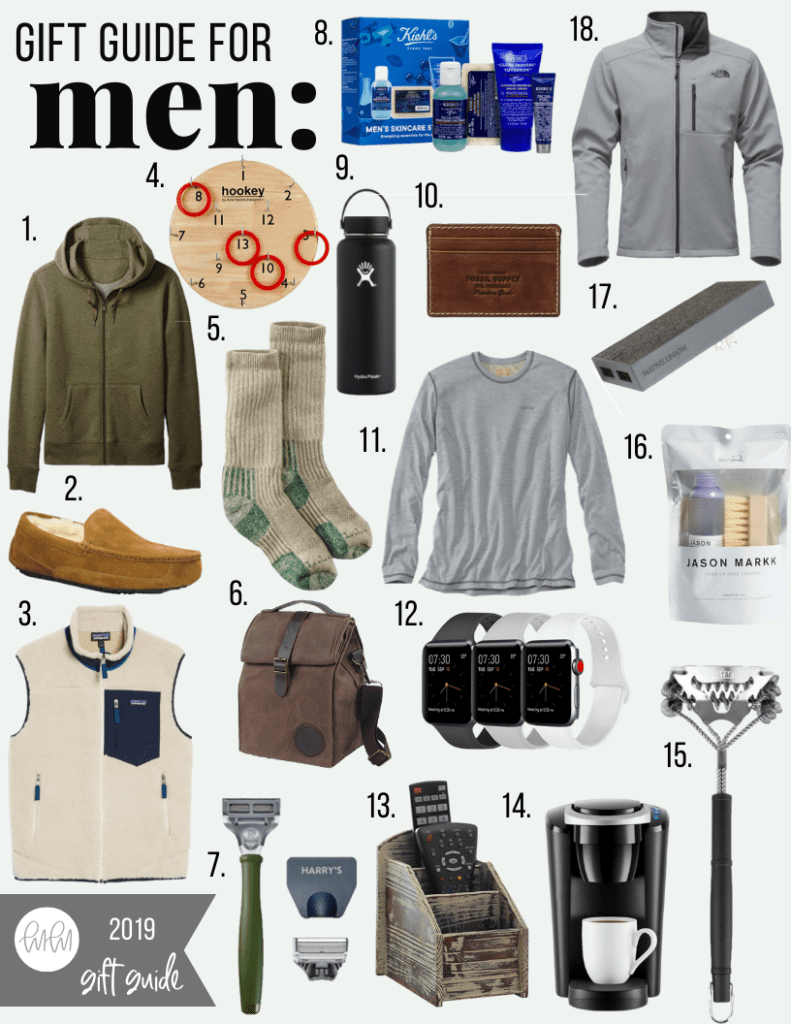 ---
---
1. Full Zip Sweatshirt : Just your standard zip up hoodie but it has amazing reviews, ships with Amazon PRIME and is only $19.
---
also available in these other colors :

---
2. UGG Slippers : Trey has these and he swears they are the best things ever. True to size and FREE SHIPPING. The color pictured and the one he has is : CHESTNUT SUEDE.
3. Patagonia Windproof Vest : These things last forever and they also look very manly if you're asking me. Available in two other colors plus FREE SHIPPING.
4. Hookey Game : He will love playing this out on the patio when ya'll are grilling dinner or friends are over.
5. Great Quality Boot Socks : The boot socks are some of the hands down best and warmest socks ever. Trey and I both had some when we lived in Montana and wore them all the time.
---
more sock options from the same retailer :

---
6. Canvas Lunch Bag : This lunch bag had great reviews plus it's an Amazon pick so it must be good. 🙂 Gift him this and the hydroflask below and he'll be good to go.
7. HARRY'S Razor : This would be a great stocking stuffer. You can also buy online and pick up in store!!
8. Kiehl's Men's Starter Kit : Love this brand!! Free Shipping too!!
9. 40 Ounce Hydroflask : He can fill up his water and take to work, take it to the gym, hiking, or anytime he really wants fresh cold water without having to purchase bottled water.
10. Leather Card Case : Trey says he doesn't like the heaviness or bulk that can sometimes go along with a typical folding wallet so he prefers a slim card case. If your guy likes that too, grab this one. It's made of real leather and under $30.
11. Drirelease Tee Shirt : These are a little pricey but amazing quality and last forever. Trey received this tee shirt as a gift a few years back and he still has it hanging in his closet. True to size and you don't have to fly fish to wear one. 🙂
12. Apple iwatch 3 Pack Replacement Bands : I have this set and was amazed at the quality. Trey took the grey and black and I have the white. Great little stocking stuffer idea too.
---
also available in these other colors for guys :

---
13. Remote Control Storage Rack : Men love their remotes and we started to have so many that they were everywhere. I purchased something similar to this storage rack for Trey and now they are organized and neat. It's under $17 and ships with Amazon PRIME.
---
more remote control storage rack options and styles :

---
14. Keurig K Compact Single Serve Brewer : He can take this to the office
15. Bristle Free Grill Brush : My top pick out of this whole gift guide is this grill cleaning brush. I bought this for Trey over a year ago for his birthday and we both really love it. No more worrying about metal spikes ending up in your food plus the durability is outstanding.
16. Shoe Cleaning Kit : Unfortunately this shoe cleaning kit (pictured above) is already sold out, however I'm leaving the link here for when it gets restocked. In the meantime, the suede cleaning kit is still available.
17. USB Smart Charger : Free shipping!!! Now he won't have to worry about not texting you back because his phone won't die. :0 haha!
18. The North Face Jacket : Love this jacket for guys! The North Face is one of if not Trey's favorite brand to wear. It's available in a few other colors as well.
---
Hopefully this gift guide for men helped you pick out a few things to get the man or men in your life this Christmas. They are harder to shop for than they claim but I have proof, from my own guy, that he will love at least one of the items on this list. 🙂
---
Check out my gift guide for HER under $100 by clicking the picture below.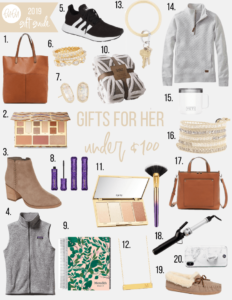 ---
Thanks for stopping by ya'll!! Stay tuned for more gift guides to come!!! If you have any special requests please leave them in the comments below.
---
This post is in no way sponsored by any brand or retailer mentioned above or linked to. As always, all opinions are my own.