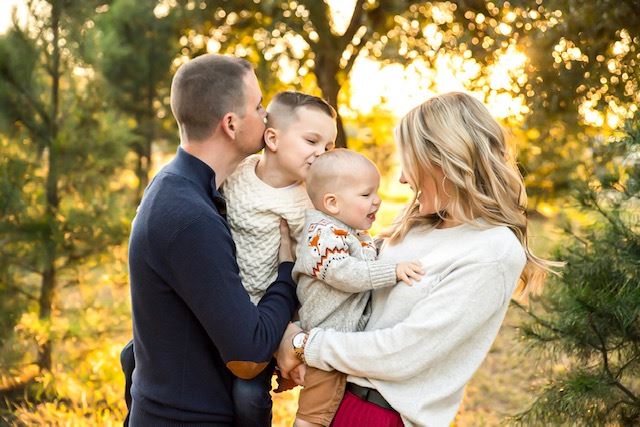 Hey there, I'm Meredith!! I'm your everyday woman in her mid 30's that lives for my family and loves the simple things in life. From casual outfits to minimalist home decor, DIY projects and finding things to make life as a mom easier, this is THESE MERRILLY DAYS.
I'm married to Trey and we have two sweet little boys, Ryder (5) and Ryan (1). Trey is in the Air Force so that means we've been moving around for the last 12 years. I've lived in places I never thought Iwould and experienced new cultures in other countries. We currently live in the cutest little coastal town known as Chesapeake Beach, which is right on the edge of Maryland. This is our first home so I'm really excited on spending the next five or six years doing all the fun home projects to create the perfect cozy space. Once Trey's time in military is complete, we look forward to building our forever home on the bay in Florida near our family, friends and the beautiful 30A.
As for style, I've always labeled myself a jeans and tee kinda girl. I try to share all the sales for a budget friendly lifestyle, however I do believe in paying a little extra for those jeans that fit just right, a classic shoe that never goes out of style or a quality coat I'll wear year after year. Being a military spouse and having two kids has taught me that less can be more. I've recently adopted the minimalist mindset when it comes to home decor and having a million and one toys stashed in my kids room. Creating inviting spaces without all the clutter sounds like a dream and organized toys without all the chaos are my therapy.I try to share a little bit of everything around here and all opinions are my own. You can utilize the search bar in the top right hand corner to help you navigate my blog. Not everyday is perfect but these are my days, THESE MERRILLY DAYS. I'm so thankful to have you here!
---
For inquires or collaborations please e-mail me at Meredith@thesemerrillydays.com
All opinions are my own.