---
I'm so excited to share my 'Five Fall staples under $50' post with ya'll today!! I've been working on this post for a few weeks now and it's finally here and ready to share with you!!! I've narrowed down everything I wear in these cooler months, and chose five staples that I believe will actually help expand your wardrobe by using items that are probably already in your closet.
Some of these items you may already own but need to update, because if you are like me, you've worn the heck out of that long sleeve white tee from last season and need a new one. Or you're looking for a new pair of jeans that are affordable, suck everything in without too much stretch and can easily be worn with all types of shoes. I've got you covered friend! If something catches your eye, make sure you read each section for sizing and fit details. I hope you find something you like!
---
Staple #1
---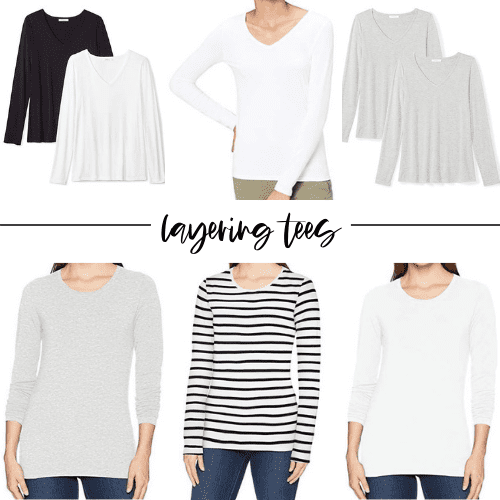 ---
---
A basic long sleeve tee shirt is hands down, the most worn article of clothing that I wear in the Fall and Winter seasons. I usually try and find one that is good quality but isn't too expensive because I like to buy multiples of them and sometimes the other color options that there might be available as well.
I love this particular tee because it checks the boxes on all of those things and is even available in a two pack in select colors and styles.
There are so many ways to style a long sleeve tee shirt other than just wearing it alone. You can layer it under cardigans, pullovers, utility jackets, heavy jackets, denim jackets, scarves, ponchos, sweaters, flannel shirts, vests'……. I mean seriously, the options are endless. When a tunic sweatshirt or sweater has slits on the side and you need a long tee to layer underneath so your skin doesn't show, this one does the job.
** Fit details for the v neck style I'm wearing **
The material of this shirt reminds me of the luxe style tees at Old Navy, but thicker and much better quality in my opinion. It does make the top a little extra clingy, so I would recommend ordering your normal size or going up one. If you are in between sizes and want a looser fit, go up one as well. Sizes are available in XS-XXL. I have a small and will be ordering a medium as well for when I want a little extra length.
---
How to Style :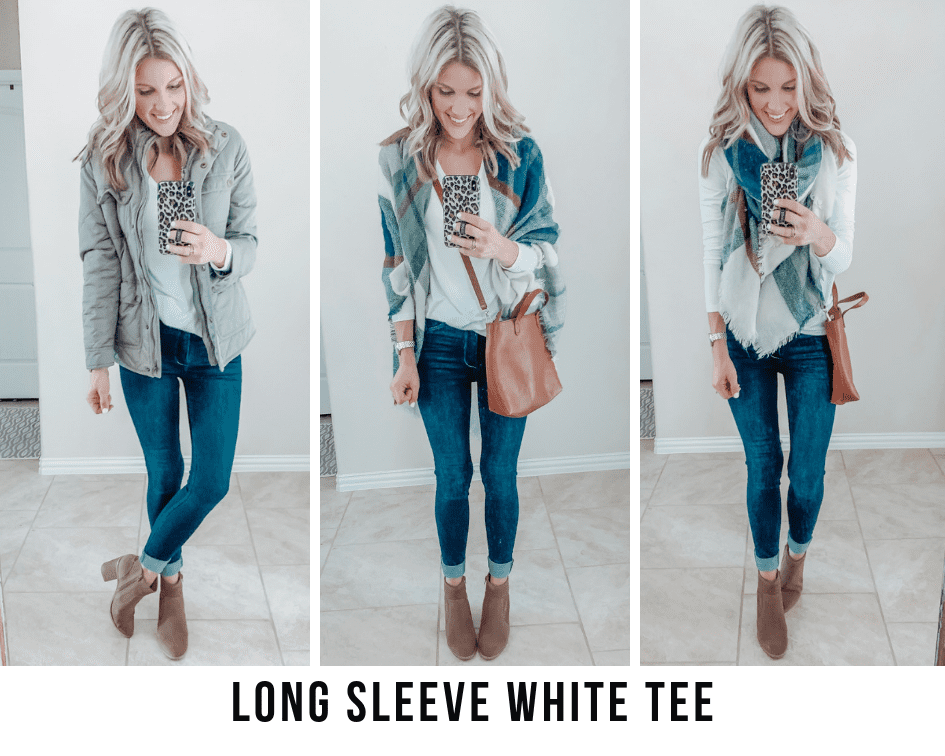 ---
JEANS // JACKET // BOOTIES // CROSSBODY BAG //
SIMILAR SCARF
---
scarves similar to mine :

---
Staple #2
---
First, let me say this…..all of these jeans are from Abercrombie and they are having a huge 60% off sale right now. Most of these are regularly around $80 or more and with this sale, they are right under $32.
YES PLEASE!!
So make sure you check this sale out because it's worth it.
---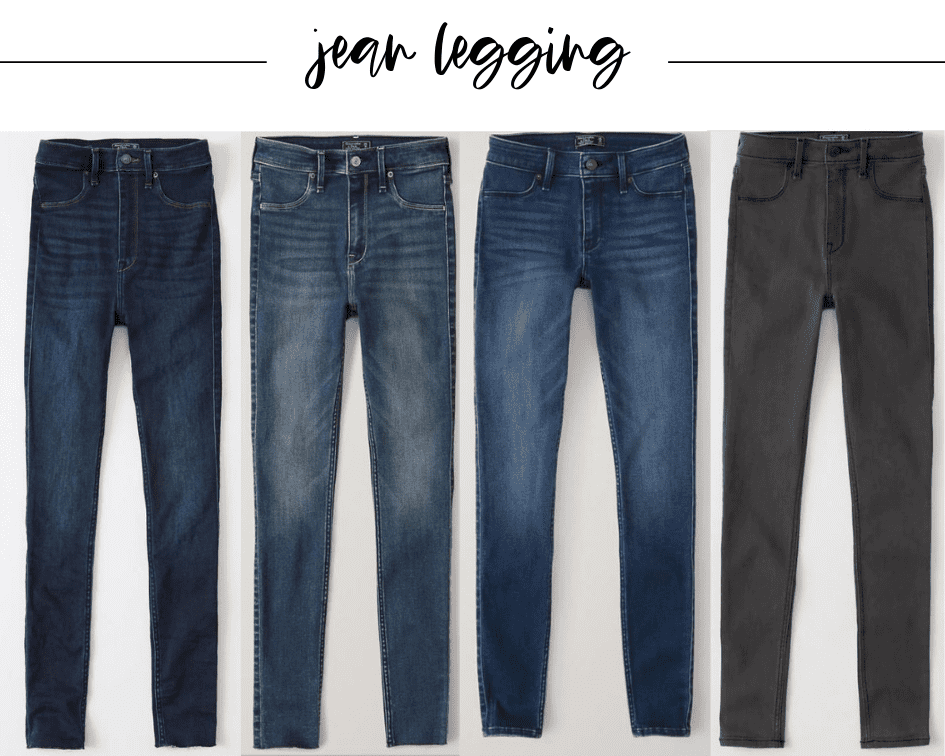 ---
ULTRA HIGH RISE // HIGH RISE // LOW RISE // HIGH RISE IN GREY
---
Everyone needs a good pair of denim in their closet and I prefer the ultra high rise jegging as my number one pick. These jeans are from Abercrombie and it's been a long time since I've worn their denim. In the search for my new favorite pair, I wasn't about to leave any stones un-turned, so I figured I'd give them a try and I'm SO glad I did.
---
How to Style :
---
JEANS // BOOTS // DENIM JACKET // SWEATER
VEST (from the same retailer, I have last year's version) // CROSSBODY BAG // WHITE TEE

---
** fit details on the high rise grey jean legging**
This is your typical high rise jean and I ordered my normal size 25.
( For reference, I'm 5'6 / 117lbs. / long torso )
They are a little long on me but I wouldn't want to size down to a short/petite because I prefer to roll them at the bottom and they would probably ride up. (yikes)
I love these because they have the perfect amount of stretch, without bagging out throughout the day and really suck you in. Grab your normal size, if in between sizes go up one.
---
How to Style :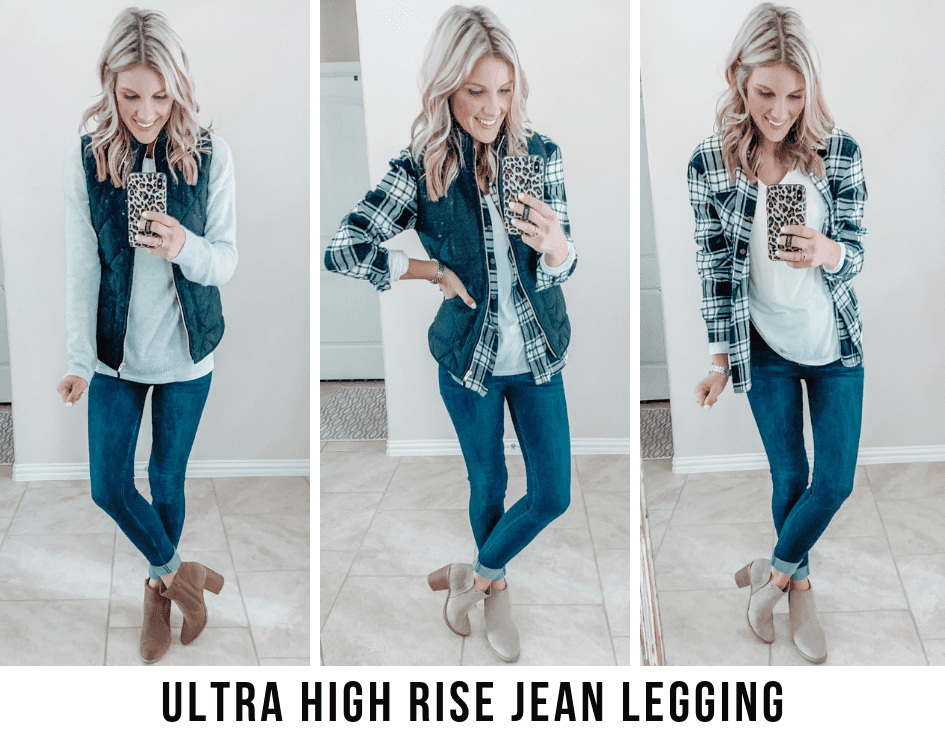 ---
JEANS // BOOTS // VEST // FLANNEL TOP // WHITE TEE // SWEATER
---
** fit details on the ultra high rise jean legging**
These bad boys really suck you in and come up super high, which I love. Let's just be honest, sometimes, super high rise jeans like this can ride up in the front and create a visual that just isn't pretty, nor does it feel comfortable. I think you know what
I'm saying here. This pair does NOT do that.
I ordered my normal size 25, but MAYBE, MIGHT, IT COULD BE POSSIBLE…that I could do a 24.
My reasoning??
Your natural waist is smaller than your hips and that's where this rise hits, they are a little loose in that area. I've ordered the next size down to test it out and I'll get back to you. 🙂
For now, I would order your normal size. If you have a smaller waist and you are in between sizes, go down one. If you are in between sizes, go up one.
---
** fit details on the super skinny style**
I don't own any of the super skinny jeans from Abercrombie honestly because I just prefer the legging style more. I have tried these on though and the fit is pretty true to size, but if you are in between or have never worn their denim before and you are concerned, I would go up one.
---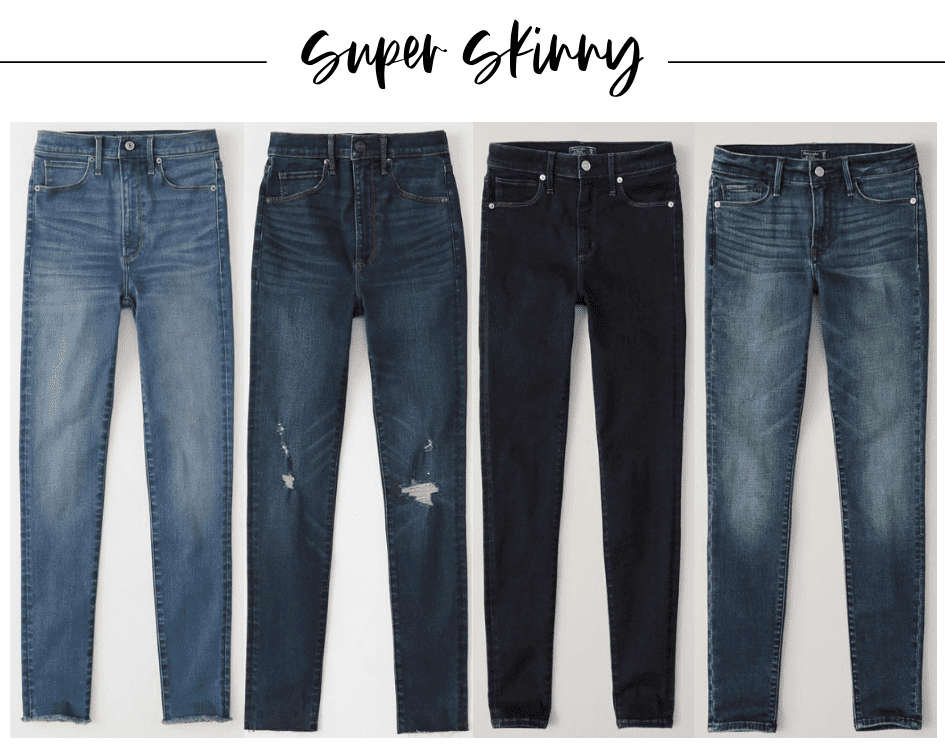 ---
ULTRA HIGH RISE // HIGH RISE // LOW RISE
---
Staple #3
---
---
DARK TAUPE BOOTIES // LIGHT TAUPE BOOTIES
---
I didn't purchase any casual booties from the Nordstrom sale this year and I was really bummed because I had hoped I would find a good pair. Now, I'm SO GLAD I didn't! I found both of these at Target and they are under $38! I was able to purchase BOTH PAIR for the price of what one bootie would cost me at the anniversary sale.
** sizing details on both pairs **
For reference, I normally wear a 7.5 in most all shoes except for mules and boots and then I wear an 8. I have wide feet and wear both of these with no problem. I purchased an 8 and they are extremely comfortable.
Order your normal size, but if you are in between, I would go up one.
---
I recently shared a blog post with all of my top shoe picks for back to school and Fall at DSW. Click HERE to read that post and see what I found.
---
Staple #4
---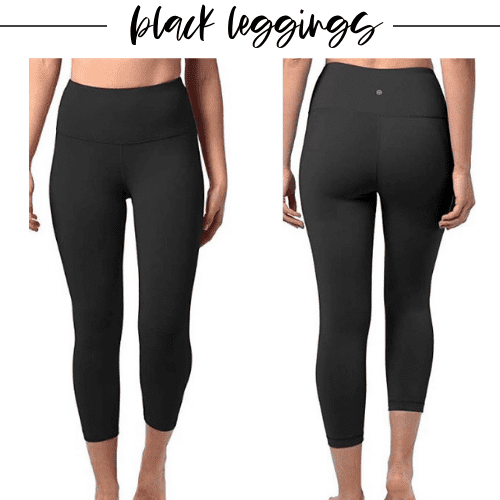 ---
---
I stumbled across these leggings while I was watching a try on in
Instagram stories from Laura Godfrey , @lauragodfrey , and she
sold me on this pair when she said they were under $25,
weren't see through and had a high rise.
Yes please and thank you!! They really are so good and whether they may or may not actually be athletic leggings is still up for debate, but who cares… they look great and I can wear them with just about any style shoe out there.
---
** sizing details **
Sizing in these leggings runs from an XS to XL and I purchased an XS. That would be my true size so I would recommend grabbing your normal size as well. They hit right above my ankles which makes them perfect to wear with my favorite white sneakers, booties, wedge sneakers, flats or tall boots.
---
How to Style :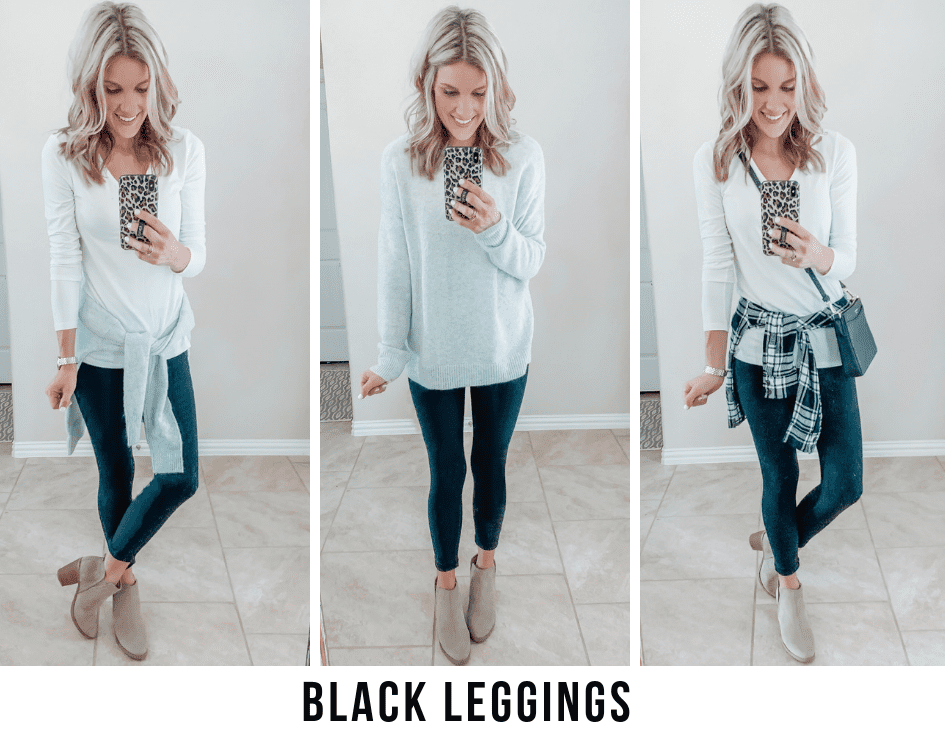 ---
WHITE TEE // SWEATER // BOOTIES // FLANNEL TOP // CROSSBODY BAG
---
Staple #5
---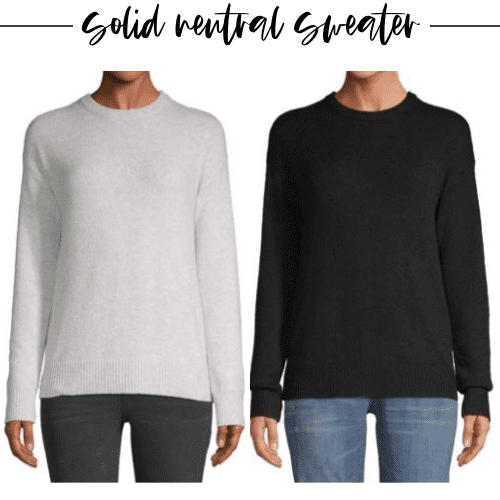 ---
---
The price on this sweater is so good ya'll because it's only $11!!!
I like to have a solid neutral sweater to layer with white tees, scarves, and even use them to tie around my waist when my top might not be long enough to cover my full front and back when I'm wearing leggings. This sweater comes in two solid colors, black and grey, and several colorblock options as well and they are extremely gorgeous.
---
** sizing details **
In this post, I'm wearing the grey in a medium, however I'll be grabbing a small as well. I like to have the medium for length and an oversized fit to pair with bottoms like leggings. However, I prefer a small when I'm going to be doing a lot of layering to reduce the bulky feeling that can sometimes happen. It's super soft, cozy and really great quality.
Order your normal size for a standard fit, size up one for a looser feel, for extra length or if you are in between sizes.
---
How to Style :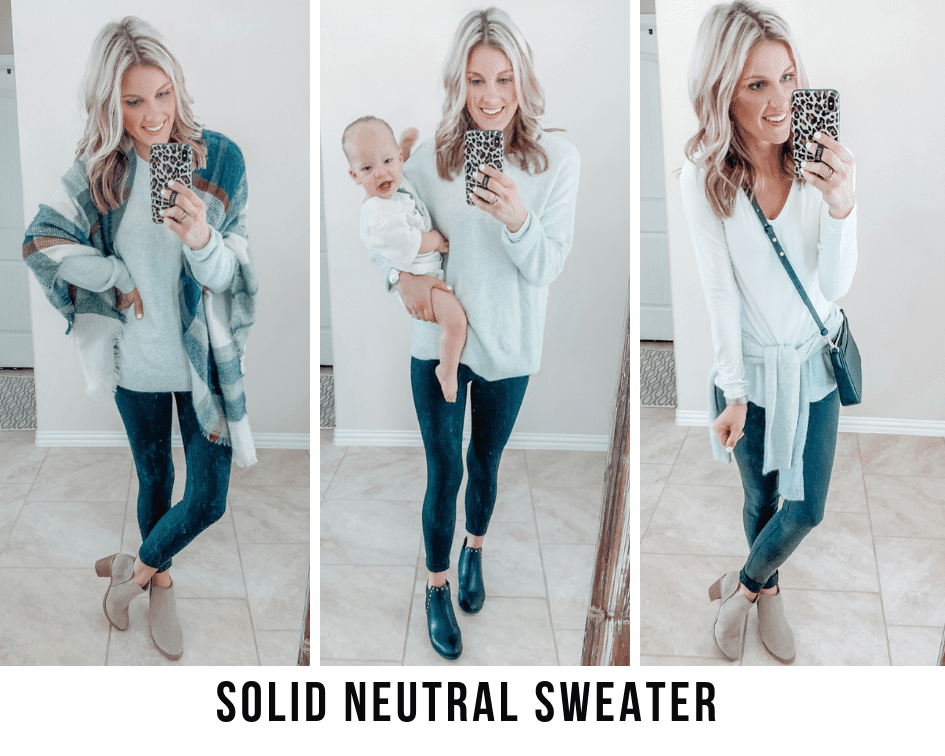 ---
SIMILAR SCARF // LEGGINGS // GREY JEANS // CROSSBODY BAG // WHITE TEE // BLACK BOOTIES NOT ONLINE YET – similar style linked HERE // TAUPE BOOTIES //
**BABY NOT FOR PURCHASE 🙂 **
---
Plaid shirts :

---
I hope that you enjoyed reading this post and that it helped you fill the holes in you closet with items that you can really use in the coming months.
If you loved this post and want to make sure you never miss a new one, you sign up for my newsletter that will go directly to your inbox.
Enter your e-mail in the box below to sign up for my newsletter
This post is in no way sponsored by any of the retailers or brands I mentioned above. As always, all opinions are my own and I am so glad you stopped by.