---
Happy November 1st ya'll!! I can't believe the holiday season is here! I'm so excited because I love doing things with our little family, eating all the yummy food and for me, helping you check things off your Christmas list. Yes, I know not everyone loves shopping, staring at the computer until their eyes bleed, wondering what to gift their hubby, bestie or teacher at school. But guess what?? I do (it's my love language) and I'm here to help. In today's gift guide I've rounded up 20 things to gift HER this holiday season.
In today's gift guide, I've rounded up items that I think every woman could use no matter their age, where they live or what they do. I have some of these already and would love the ones I don't. Enjoy!!!
---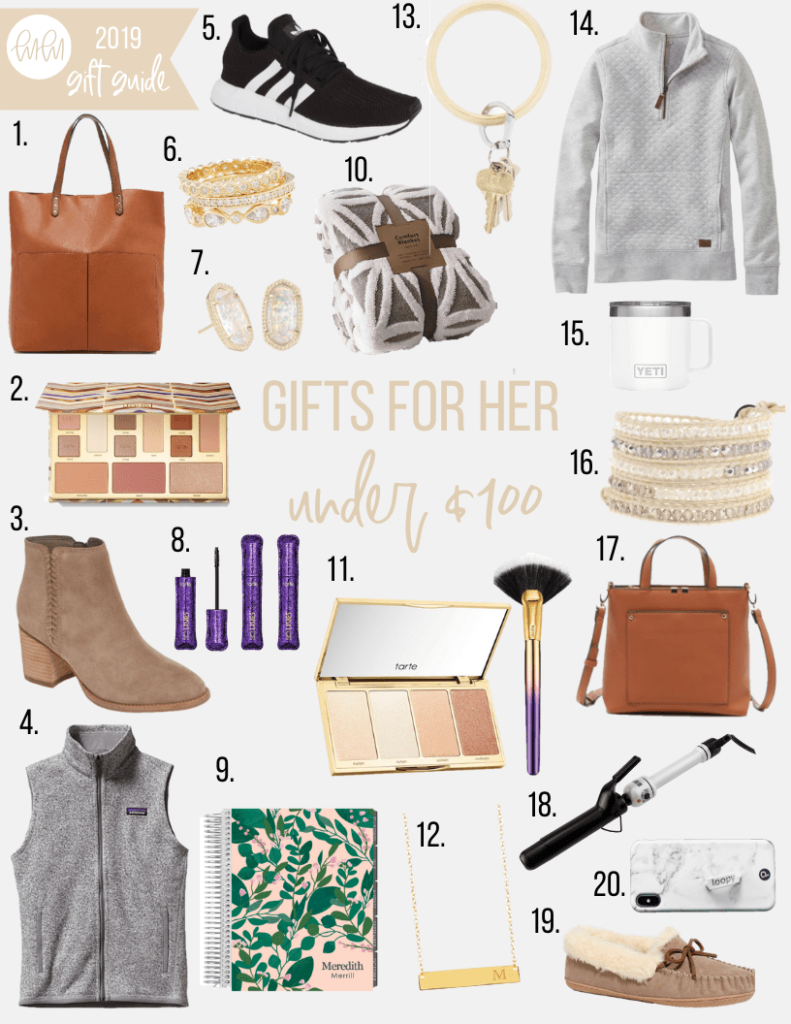 ---
---
1. Tote Bag : This is the best mom bag that isn't a diaper bag or would even be a great work bag. It holds all the snacks you will ever need! The quality is amazing and I carry it all the time

2. Eye & Cheek Palette : I use this every single day because of the neutral colors in it. This would be such a treat for her!

3. Waterproof Booties : She can wear this in all the rain puddles because they are waterproof

4. Patagonia Vest : Mine is going strong after 4 years! TTS
---
more Patagonia but not under $100

---

5. Adidas Sneakers : the comfiest sneaker I've ever owned // size down one whole size, they run big

6. Stackable Rings : under $60

7. Kendra Scott Stud Earrings : If she can't do heavy earrings but loves the glam, get these

8. Tarte Cosmetics 3 piece Mascara : My favorite mascara!! Stock up for yourself or divide them 3 ways as gift for your besties

9. Erin Condren Lifeplanner : You can customize most all of the covers to the color combos you prefer plus you can personalize with their name or leave it blank // I use this everyday
---
other designs :


---

10. Cozy Sherpa Blanket : You will never need another blanket. Ever. I'm currently covered up with this and it's the coziest one I own

11. Tarte Cosmetics Lighting Palette : Love this palette. Click HERE to see more of my makeup you could gift

12. Personalized Necklace : If she loves dainty jewelry, grab this necklace

13. O Key Ring : this key ring always keeps me hands free. She will love it!

14. LLBean quilted pullover : a pullover that looks a little more put together // comes in a few other colors

15. Yeti Coffee Mug : keeps your drink warm for several hours

16. Wrap bracelet : love this boho style bracelet
---
more wraps to browse :

---

17. Cognac Crossbody Bag : You can never go wrong with a basic neutral crossbody bag

18. Hot Tools Curling Iron : I currently use the 1 1/4 inch barrel // if you want smaller, tighter curls, always get a smaller barrel

19. Cozy House Slippers : I have these slippers and they are so cozy + TTS

20. Loopy Phone Case : use code " merrillydays " for 10% off
---
SHOP ALL THE ITEMS HERE

---
I hope this gift guide gave you a few ideas to help you check one more person off your shopping list. Stay tuned for more gift guides to come because I have a few more up my sleeve. If there is a particular guide you'd like to see, I'd love for you to let me know in the comments. Happy November 1st ya'll!!
---