Copycat dishes are rarely as good as the real deal, however this pasta salad tastes almost just like the kind I always order at Zoe's Kitchen. If you have never eaten their pasta salad before, then you can certainly go to the restaurant and try it, OR you can just whip up this recipe I'm sharing in your very own kitchen.

Zoe's Kitchen is one of my favorite places to eat because they are for the most part, very healthy. It's not like eating fast food. In fact, everything I've had always tastes fresh and I don't leave feeling full or heavy. I hate that feeling of being stuffed, except maybe on Thanksgiving or Christmas when there is soooo much good food to gobble up. 🙂
---
---

I wish I could say I came up with this pasta salad recipe on my own, however, I didn't. It's good ole' Pinterest that saved the day and they didn't disappoint.

---
Zoe's Kitchen Copycat Pasta Salad
prep time 5 min.
cook time 10 min.
rest time 15 min.
Total Time 20 min.
Ingredients
8 oz. of your favorite pasta (I used penne b/c that's what we had on hand)
7 oz. feta cheese crumbled
12 oz. campari tomatoes chopped
24-30 basil leaves chopped
3 tbsp. olive oil
salt
pepper
Ingredients in this recipe :

Instructions
1. Cook the pasta according to the directions on the package. Drain and let cool.

2. Once pasta is cool, in a large bowl, combine it with the crumbled feta, chopped tomatoes, basil leaves, olive oil and a pinch of salt pepper. Stir and let sit in the fridge for at least 15 minutes before serving so it gets nice and cool.
From my kitchen :

---
---
If you love this pasta salad recipe, I also have a few other blog posts with recipes that you should definitely check out, including a few with Trader Joe exclusive items. To see my favorite homemade French Toast recipe, click HERE.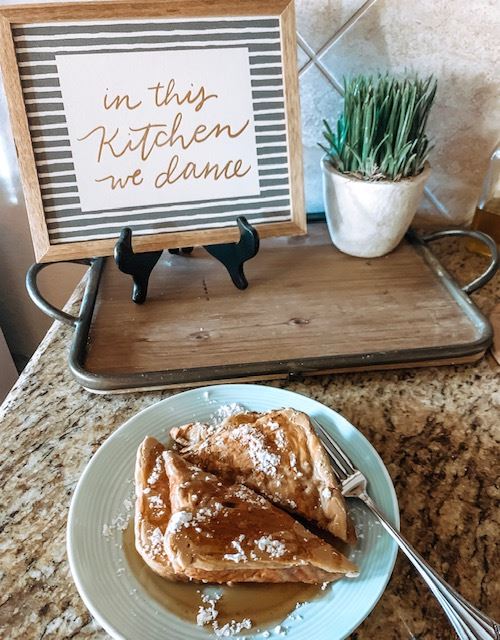 Click HERE to get my boys' favorite cookie recipe, Cookie Butter Cookies. Ya'll, these things taste like crack and don't hate me when you can't eat just one.
---
I hope you enjoy this recipe and I can't wait to share more with you!! This post is not sponsored by Zoe's Kitchen or any other brand / retailer or website mentioned above. As always, all opinions are my own.