---
Happy Fall Ya'll!!! That's what we would say in the South and something about it just rolls off the tongue, ya know?? It sounds so happy and cheery, kinda like how Fall makes me feel on the inside. Speaking of inside, today's blog post is all about our home and how it's decorated for Fall. I hope you enjoy reading it and at the end, I have three other adorable blogger friends that are also sharing their homes on their own sites today.
Be sure to check them out!
Okay… well, Happy Fall Ya'll… Welcome to my home and I hope you enjoy seeing my home decor!
---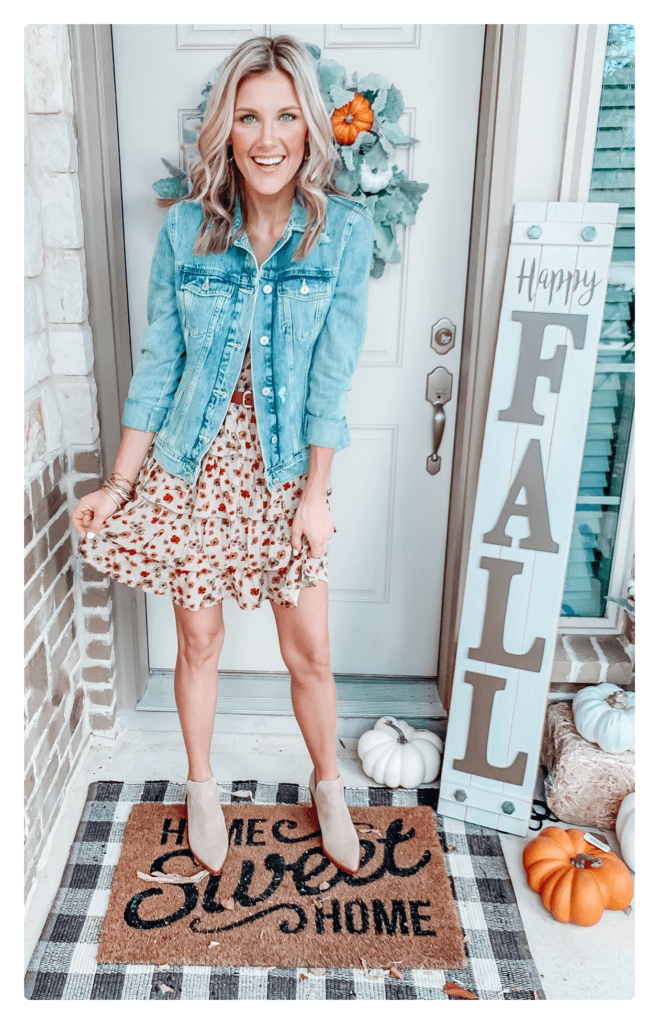 ---

---
My mom and I talk on the phone every single day and normally it's first thing in the morning to catch up and see what the other is doing that day. She called me yesterday and in chit chatting with her it came up that it was in fact, the first day of Fall.
She said, "So what's the weather like there today and what do you have planned??"

My response : "Well, right now I'm sitting on the couch all cozied up with a soft blanket because it's about 55 degrees outside. There are Fall leaves everywhere on the ground and I'm actually drinking a cup of hot apple cider right now. Later we are going to bundle up and head to the pumpkin patch or maybe go apple picking. It's the perfect Fall day so I'm not really sure yet…."

My mom : " Dare to dream baby girl. Dare to dream."

……and then we both laughed and cried because we realized in was about 95 degrees where we both live.
---
DIY Fall Kitchen Table Centerpiece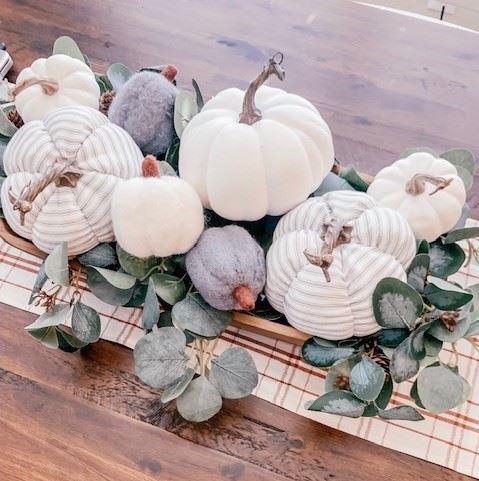 ---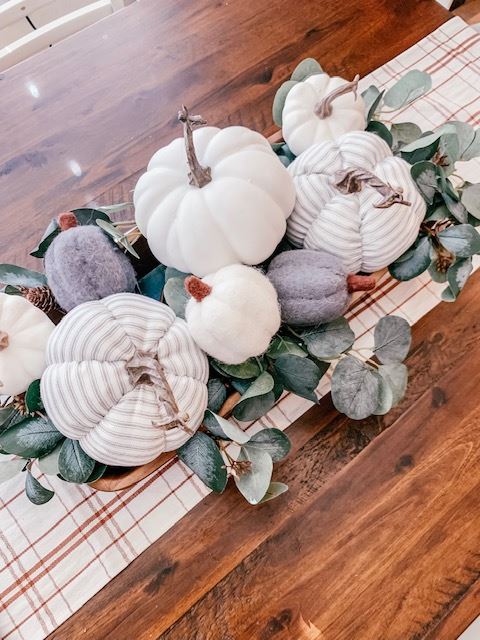 ---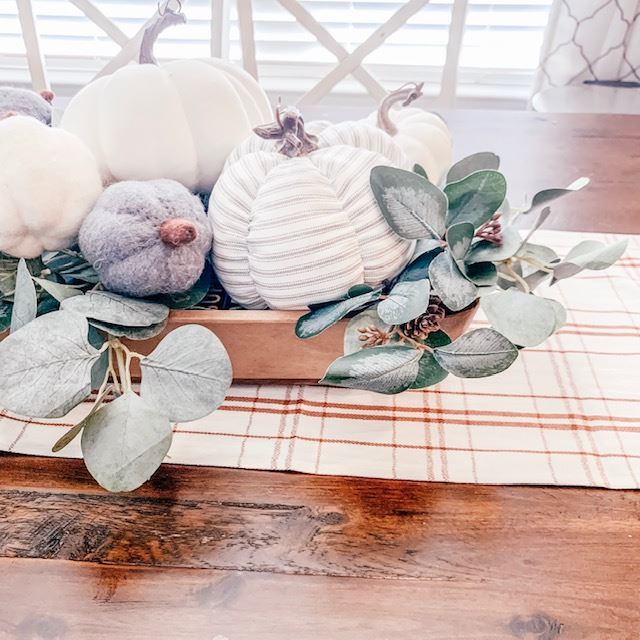 I bought this bowl thinking it was a steal for $9.99, only to find out at the checkout it was $29.99 and the joke was on me. 🙂 Oh well, it's okay because I decided to keep it and turn it into a DIY project and make it a centerpiece for my kitchen table. It's actually a serving bowl so in the end, you get more for your money… right?? You can use it like I have for Fall and then turn around and serve the ham you'll be eating for Easter in it.
---
How To Create Your Own :
---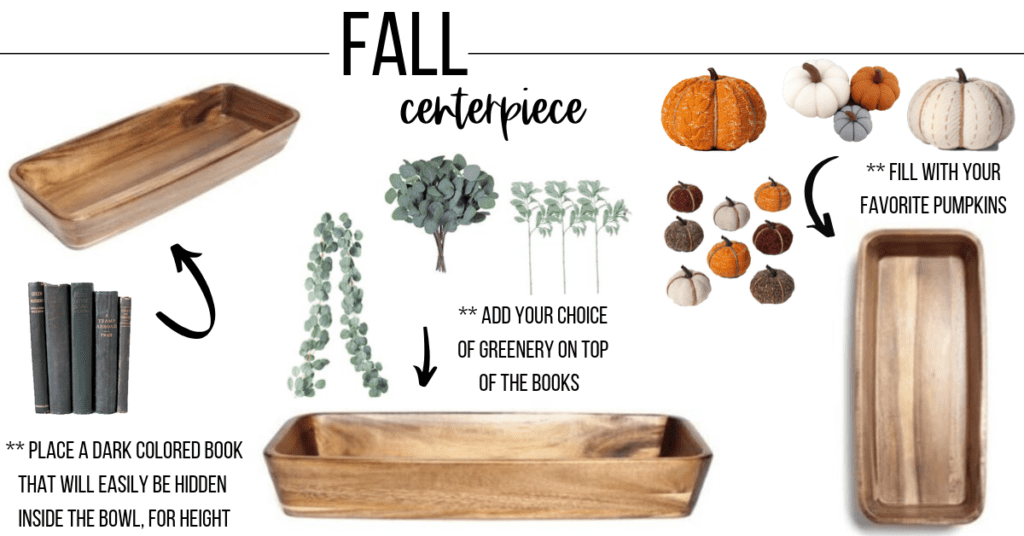 ---
** similar table runners **

---
Living Room Coffee Table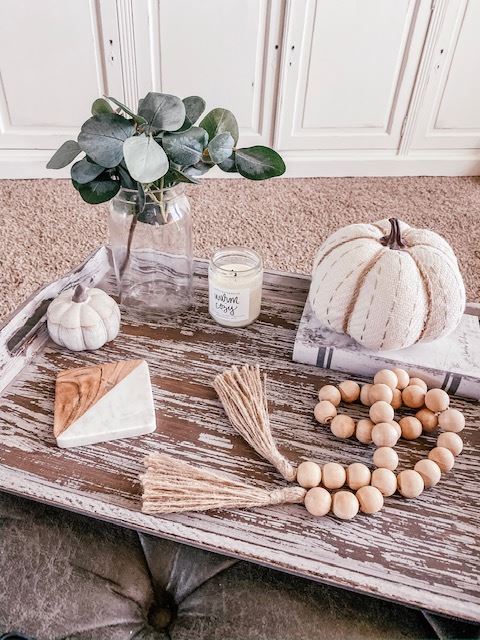 ---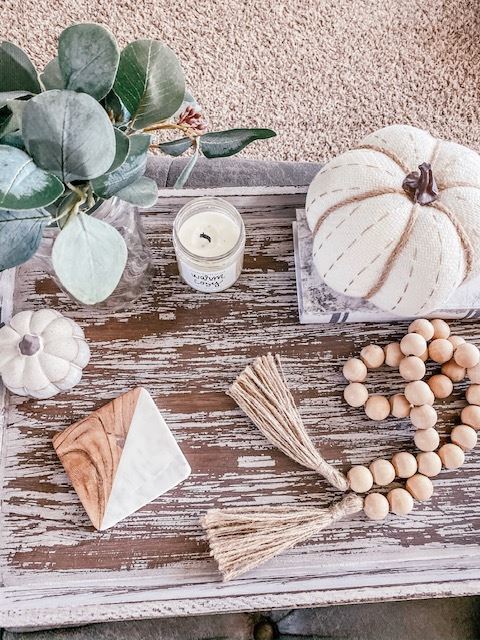 CANDLE // LARGE PUMPKIN //
SMALL PUMPKIN // GLASS JAR // EUCALYPTUS //
WOODEN BEADED ROPE
---
It may be hard to believe, but I'm actually very minimalist at heart, especially when it comes to home decor. I like to refresh our home every time we move…(military family)… so I try to get rid of things I'm not using or don't plan to use and keep only the items I really love. I LOVE simple details like this wooden rope (under $15) that adds a little bit of texture to my coffee table.
---
** similar items to my decor not listed **

---
Entertainment Center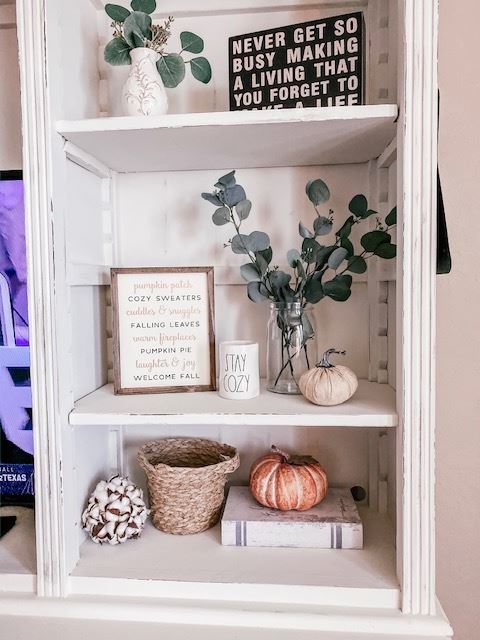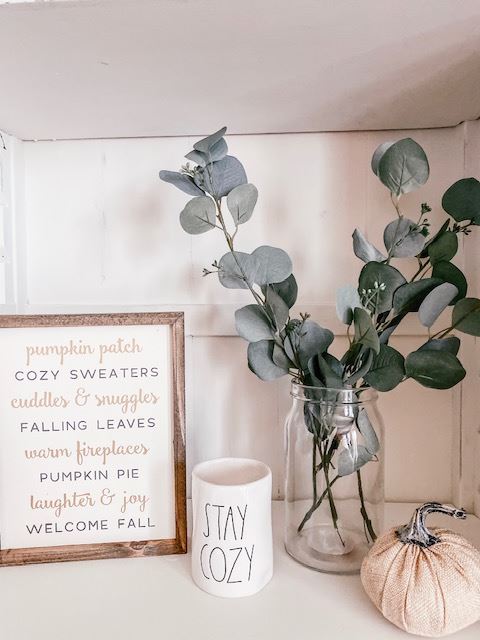 FALL SIGN // GLASS JAR // EUCALYPTUS //
STAY COZY CANDLE
( I purchased mine in store at TJMAXX, but I found one on ebay)

---
If you are new here, I just recently chalk painted this entertainment center and I am over the moon with how it turned out. I had planned on giving it away or selling it when we move next Summer and I'm so glad I didn't. It was never meant to be a dark, sad, depressing brown… it was meant to be this beautiful cream color with a little distressing detail. 🙂
---
BEFORE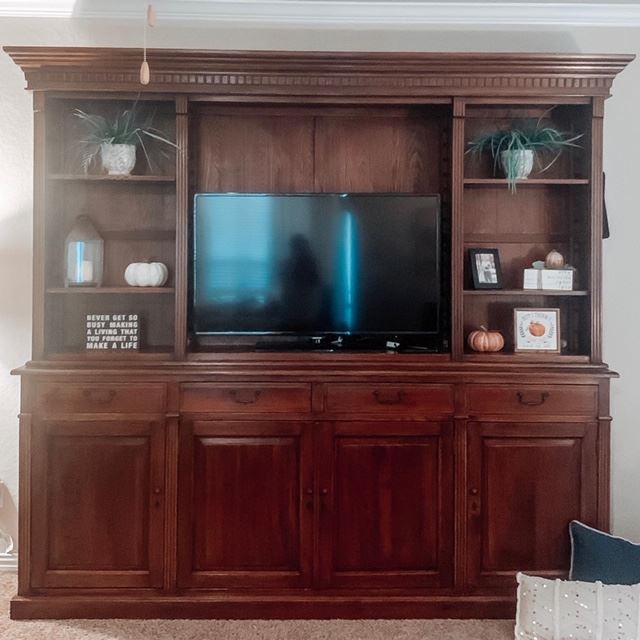 ---
AFTER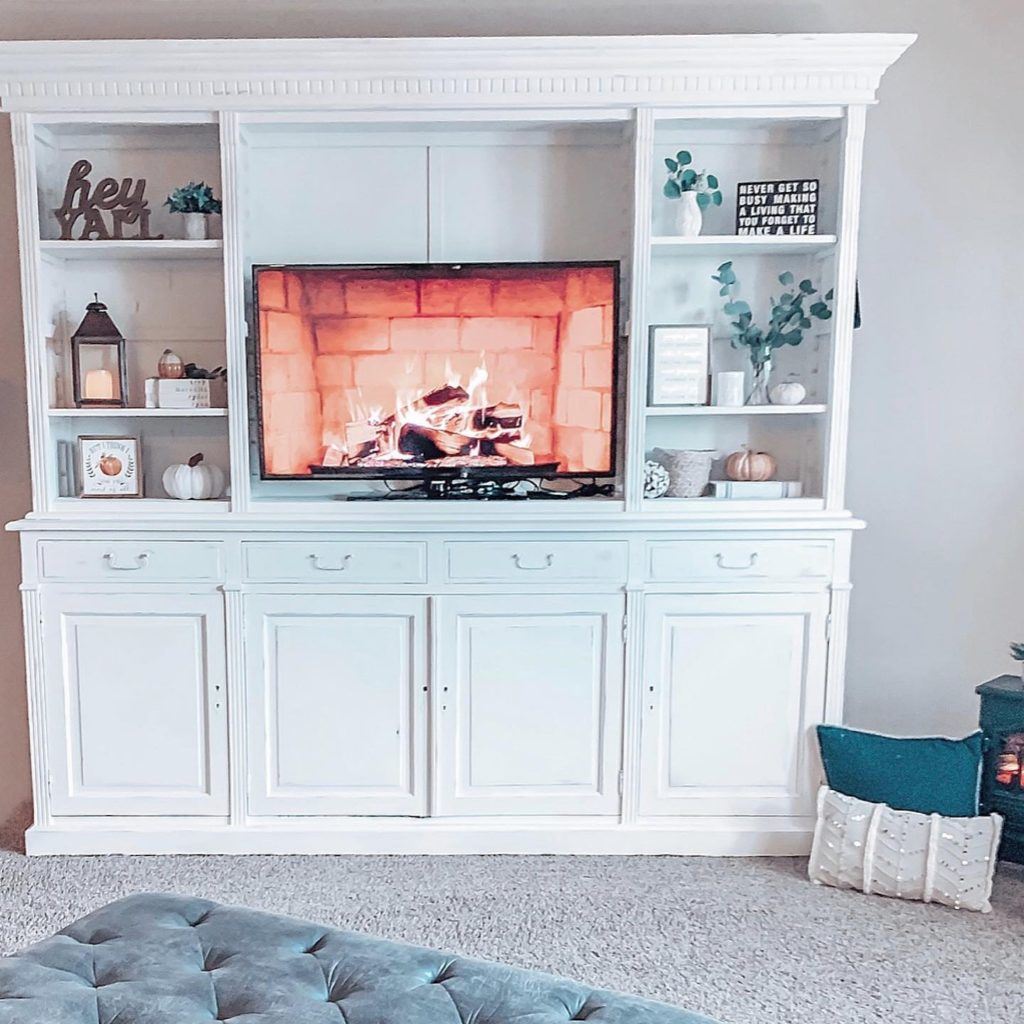 It's currently missing knobs because I haven't found the ones I love just yet, but see what I mean??
---
** similar mini pumpkins **

---
To decorate my beautiful, newly painted entertainment center,
( I'm slightly proud ) I used pieces I already had from other areas in our home or items that were stored away and wasn't using at the time. I didn't want it to be a money pit and since we move every three years or so, there are a few boxes of decor in the garage that I was able to use again. Trey's wallet really appreciated that. 🙂
---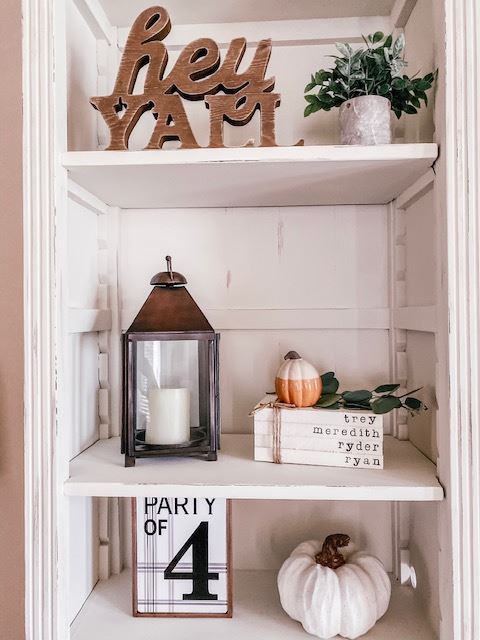 ---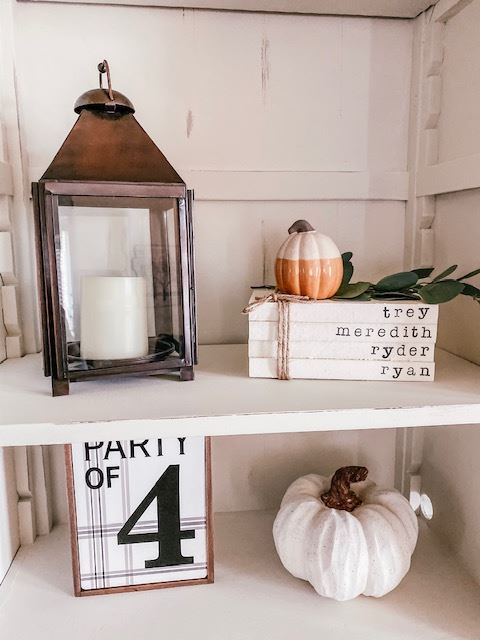 WHITE PUMPKIN // CUSTOMIZED NAME BOOKS //
MINI ORANGE PUMPKIN
---
My sweet friend Jessica has an Etsy shop and she hand stamps these stacked books that she creates along with some beautiful rosewood bracelets. You can purchase a customized set like I have, or she sells sets with sayings she has come up with. They are a new favorite of mine and would make the perfect gift for a teacher, friend or host / hostess. I can't wait to see her Christmas collection because I know they are going to be so cute. I've shared a few of the ones currently in her shop below. You can find her on Instagram as well @reefrainaria.

---
I found my 'Party of 4' sign at Hobby Lobby and since I can't link anything for you there, I found a few similar ones for you to shop.
** similar 'Party of 4' sign **

---
In My Office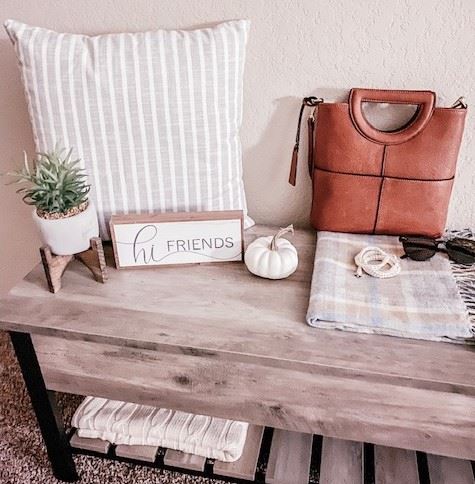 BENCH // BRACELET // HANDBAG // SUNGLASSES // SCARF
This bench is in my office and it actually matches my garment and shoe rack. Adding a simple, little white pumpkin along with a bar cart styled for Fall just made this space a little happier.
---
Fall Styled Bar Cart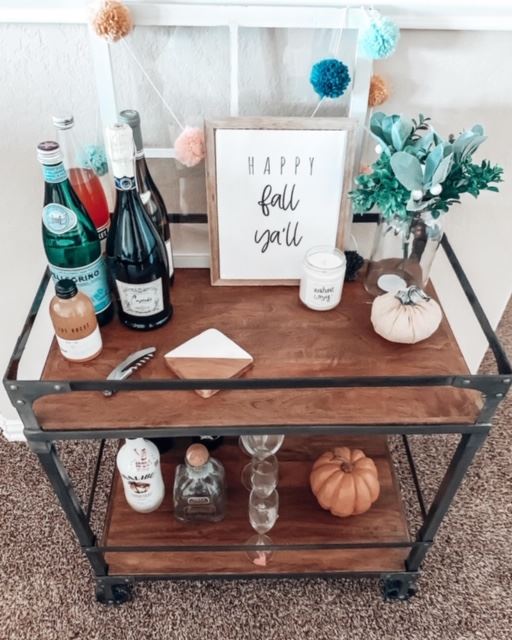 This little styled bar cart is in my office (yes, I have a bar cart in my office 🙂 ) and I really enjoy styling and decorating it for all of the seasons / holidays because, why not?? A styled Fall bar cart looks so festive, don't you agree? Since I with a normally stick to more neutral colors in other areas of my house, I added a little color with a pom pom garland, greenery and pumpkins.

I found most of the Fall pieces on the cart in the dollar section at Target. Did you know that you can shop the dollar section at Target online???
I know! I felt exactly what you are feeling right now the first time I discovered this hidden secret… but it's true.
Click HERE to shop the Fall section.
---
SIMILAR BAR CART // PICTURE FRAME // GLASS JAR // CANDLE // CHAMPAGNE GLASSES // WINE GLASSES //
SIMILAR WOODEN & MARBLE COASTER
---
To read my blog post from a few weeks ago on how I spruced up my kitchen with some really affordable Amazon decor and added a few Fall touches, click HERE.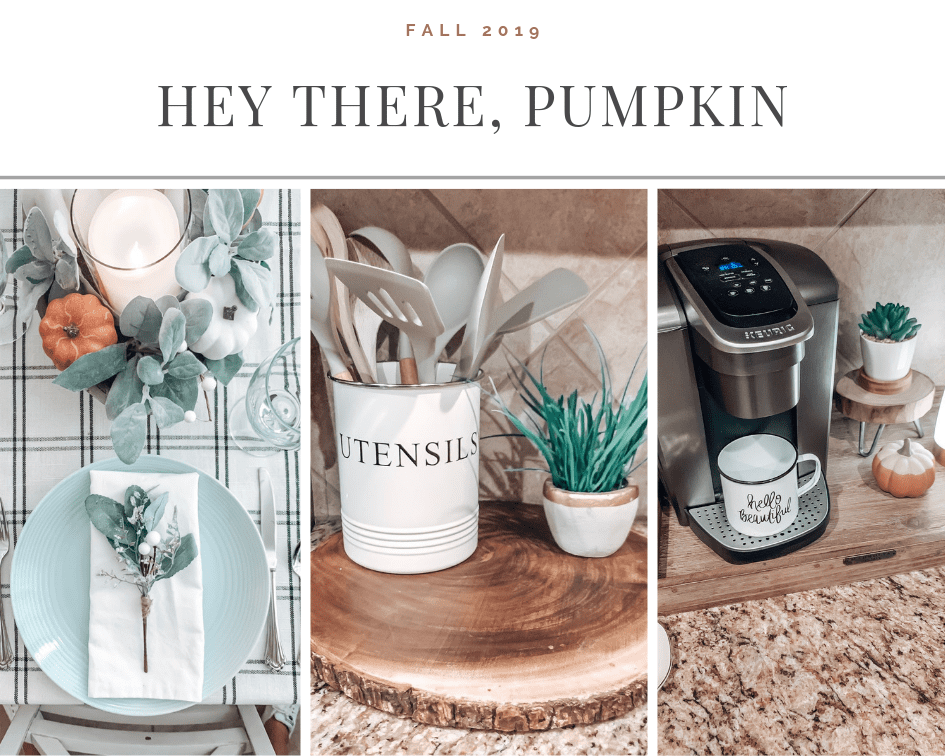 ---
I hope you enjoyed taking a peak inside our home and that it inspired you to break out your Fall decor if you haven't already. I love creating cozy spaces and styled pieces, like decorating my Fall bar cart. I can't wait to share my Christmas decorations with you after Thanksgiving. Stay tuned for that!
So Happy Fall Ya'll!!

Like I mentioned in the beginning of my post, I have a few sweet blogger friends that are also featuring their Fall home decor today and you will definitely want to go check them out.
---
SNEAK PEAK
---
SNEAK PEAK
---
SNEAK PEAK
---