---
Happy Friday ya'll!! I'm so glad we are winding down the week because I'm so ready to enjoy a lazy weekend in with my boys watching football and eating all the yummy snacks that go along with it. That's what we like to do most on Fall Saturdays and I'm pretty excited about it.
Here are this week's Friday Fall finds at Walmart!!! Have a great weekend!
---
Cozy Sweaters

---
I have found some of the best cozy sweaters at Walmart lately and they are really great quality as well. My favorite sweater this season is from Walmart and it's only $11. I even have it in two sizes for two different looks because sometimes I want a fitted style for layering button downs with jeans and tall boots. Other times I like having a slightly over sized fit so I can pair it with black leggings, a white tee underneath and sneakers for an easy casual look.
---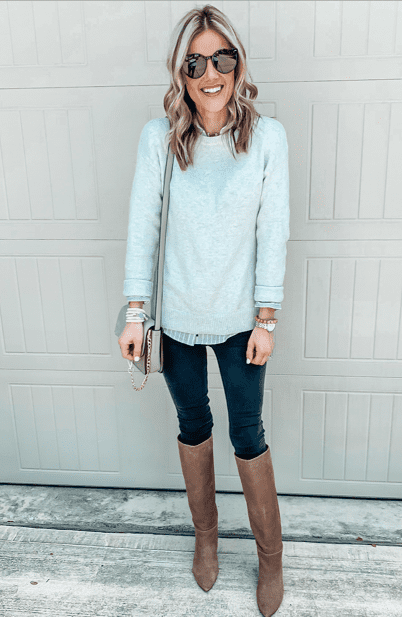 Tall Boots // Dark Grey Jean Leggings // Striped Button Up

Accessories :

---
Plaid scarves can literally make an outfit when you need one more layer or pop of color to your look. I was browsing for some that had bold, bright colors and these are just what I was looking for.
Plaid Scarves

---

I ordered these two and I'll most likely be pairing them with my favorite sweater this season, the one I mentioned above.
---
Loving Leopard

---
I am loving leopard right now and I'm praying this trend never dies because it is so cute when you wear it in a subtle way that isn't too overpowering. The leopard beanie would be so cute paired with this solid blue sweater.

---
Comfy Clothes

---
I'm all about comfy clothes, aren't you??
I mean, what's better than running errands on a cool Fall day in a cozy sherpa pullover that cost you less than what you will probably pay for lunch?? I have this sherpa in the spiced cider and oatmeal color in my normal size, however if you prefer a looser fit, go up one.
---
** cozy sherpa pullover **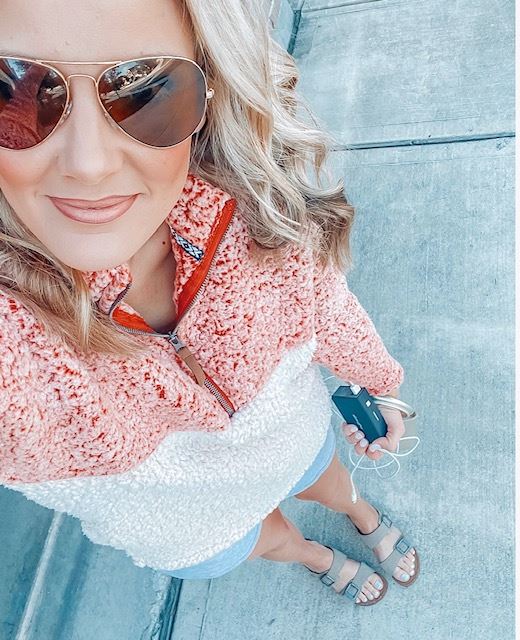 ---
Designer Shoes

---
Who knew that Walmart carried designer shoes???
All of these shoes are actually made by two of my favorite designer shoe brands and one of them, Blondo, makes all of their shoes waterproof, which will come in handy on those rainy Fall days.
---

---
Treat yo self

Yes!!! Sometimes we just need to 'Treat yo Self' and that's okay. If I were going to buy something special for myself it would be items like these. New makeup always makes me feel prettier, throw pillows just plain make me happy. However Trey, well, not so much because he knows I have way too many. 🙂

Do something special for yourself from time to time whether it's buying bath salts and a new wine glass to relax once the kid's go to bed or getting a new cozy sherpa blanket to snuggle up on the couch, just treat yo self.
---
** To see ALL of my Walmart finds and not just these, click HERE **
Did you love seeing all of my Friday Fall finds from Walmart??? I'd love your feedback so let me know in the comments below. Happy Friday Ya'll, Thanks for stopping by.