---
I've never been one that could fully commit to a capsule wardrobe, I just love switching things up too much. However, I can appreciate the simplicity of purchasing a few staple items, and / or, taking pieces you may have in your closet already and styling them multiple ways. Whether you have any of these items in your closet right now or not, I wanted to share a few ways on ' How to style casual Fall outfits multiple ways 'that will work for the everyday woman who wants to look put together without all the fuss.
---
All of the looks I'm sharing with you today are neutral, affordable, but do include a few splurge items that will stay in your closet for years. As a mom, I gravitate towards basics and staple items that can be transformed into everyday outfits that are practical and easily achievable.

Lastly, I hope this post help's give you a vision of what you want to shop for without over spending, purchasing items that eventually go to the back of your closet and never see the light of day again (we've all been there). Make your wardrobe work for YOU!!
I hope you enjoy!!!
---
Keep it simple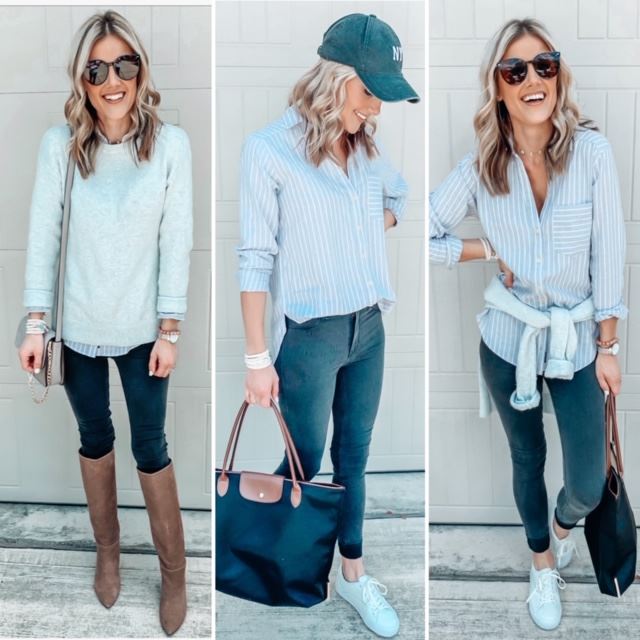 ---

---
The key pieces in these three looks are :

dark grey jean leggings, a classic button up flannel shirt, a simple grey pullover sweater and a neutral hat
(only if you haven't washed your hair like me!)
I chose these key pieces because if you just switch up how you layer them and add different shoes, you can create three different casual looks for Fall, not to mention other seasons too.

Basic white sneakers without any color or print is something I wear
a lot in the Spring when it's too cold to throw on sandals but booties just don't look right.

The ones I'm wearing are from Madewell and while they are a bit of a splurge at $88, I'm very happy with the comfort and quality they provide. In my opinion, if you're planning on wearing a specific style shoe throughout multiple seasons of the year and quite often, it's smarter to purchase a quality pair that will last you a lot longer than a lower quality / priced option.
---
** Accessories **

---
All of the accessories above are Amazon finds!! Click HERE to see all of my Amazon accessories finds.
---
Stick to neutral colors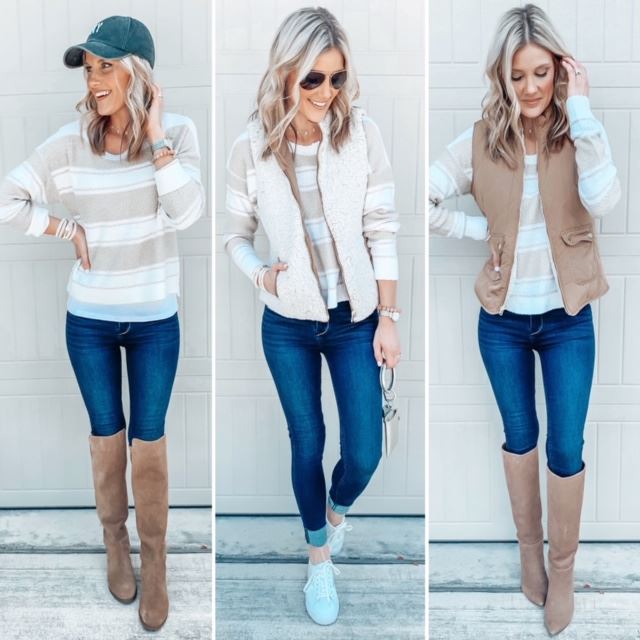 ---

---
If you are anything like me, you love some pattern and print in your closet, but ultimately find that you don't or won't wear it that often OR you can't wear it that often because you are limited in how to style it.

Yes. I feel the struggle too, however, you can find pieces to style multiple ways that have a simple color block or stripe if you stick to neutral colors. My sweater pairs perfectly with the reversible sherpa vest because the colors are neutrally similar while the bold stripes create contrast.
This sweater is boxier than most and slightly cropped, so I've rounded up a few other options below that will also work.
---

---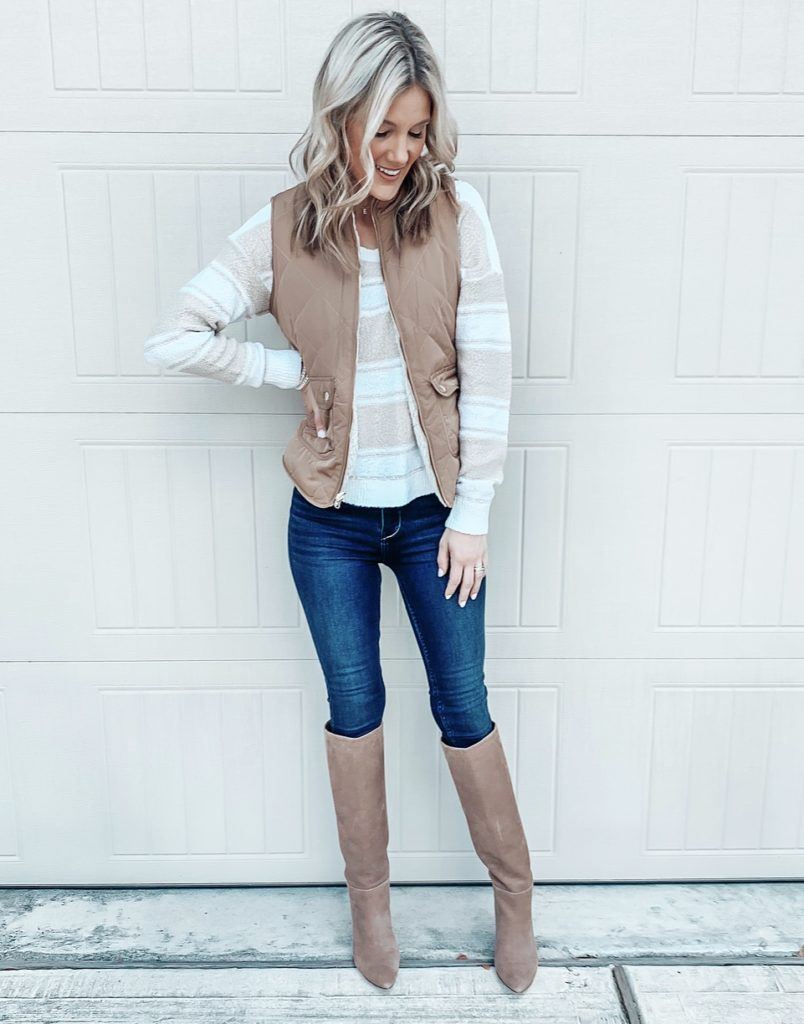 ---
** Accessories **

---
Thank you so much for stopping by and reading today's post! I love what I do and having you here is the reason I do it. Happy Tuesday and enjoy the rest of your week.
Make sure you check back later this week for two more posts coming your way that include :
---
For Lifestyle and Personal :
Raising Awareness for mental health day
For Family and Kid's :
Budget Friendly Fall Styles for Kid's
---
---
This post is in no way sponsored by any brand or retailer mentioned above. As always, all opinions are my own.